My Blog
Posts for: September, 2018
By Briar Pointe Dentistry
September 20, 2018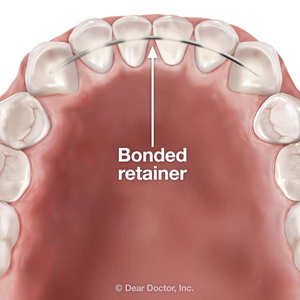 If you want to keep that new smile after orthodontic treatment, you'll need to wear a retainer for awhile. Teeth have a tendency to "rebound" to their old positions and a retainer prevents that from happening.
Most people are familiar with the standard removable retainer. But there's another option: a bonded retainer. While performing the same function as a removable one, the bonded retainer differs in one important aspect—it's fixed in place and can't be removed except by a dentist. It's especially useful for certain bite repairs like the closure of the gap between the front teeth.
If you're thinking this retainer sounds a lot like the braces just removed, it's not. The main part of a bonded retainer is a thin metal wire that we bond with a dental composite material across the back of the affected teeth. While you can definitely feel it with your tongue it can't be seen by others, which is an advantage over many removable retainers.
The fixed nature of bonded retainers also creates a couple of advantages, especially for younger patients. There's no compliance issue as with removable retainers—the patient doesn't have the option of taking it out. That also means it can't be lost, a frequent and costly occurrence with the removable variety.
But a bonded retainer does have some drawbacks. For one, the wire and composite material make it more difficult to floss. There's also a possibility of breakage from high biting forces, which if that should occur must be immediately repaired to avoid the teeth rebounding. But while removable retainers have their downsides, it's much easier with them to keep the teeth clean of plaque—you simply take the appliance out to brush and floss.
With your dentist's help you can weigh the pros and cons of both types of retainers and decide which is best for you or your child. Whichever one you choose, wearing a retainer will help protect that hard-earned smile for years to come.
If you would like more information on protecting your bite after orthodontic treatment, please contact us or schedule an appointment for a consultation. You can also learn more about this topic by reading the Dear Doctor magazine article "Bonded Retainers: What are the Pros and Cons?"
By Briar Pointe Dentistry
September 10, 2018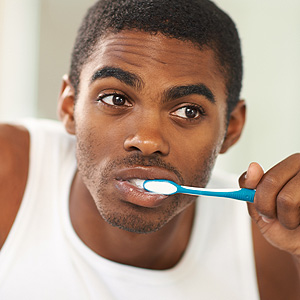 While tooth decay seems to get most of the "media attention," there's another oral infection just as common and destructive: periodontal (gum) disease. In fact, nearly half of adults over 30 have some form of it.
And like tooth decay, it begins with bacteria: while most are benign or even beneficial, a few strains of these micro-organisms can cause gum disease. They thrive and multiply in a thin, sticky film of food particles on tooth surfaces called plaque. Though not always apparent early on, you may notice symptoms like swollen, reddened or bleeding gums.
The real threat, though, is that untreated gum disease will advance deeper below the gum line, infecting the connective gum tissues, tooth roots and supporting bone. If it's not stopped, affected teeth can lose support from these structures and become loose or out of position. Ultimately, you could lose them.
We can stop this disease by removing accumulated plaque and calculus (calcified plaque, also known as tartar) from the teeth, which continues to feed the infection. To reach plaque deposits deep below the gum line, we may need to surgically access them through the gums. Even without surgery, it may still take several cleaning sessions to remove all of the plaque and calculus found.
These treatments are effective for stopping gum disease and allowing the gums to heal. But there's a better way: preventing gum disease before it begins through daily oral hygiene. In most cases, plaque builds up due to a lack of brushing and flossing. It takes only a few days without practicing these important hygiene tasks for early gingivitis to set in.
You should also visit the dentist at least twice a year for professional cleanings and checkups. A dental cleaning removes plaque and calculus from difficult to reach places. Your dentist also uses the visit to evaluate how well you're doing with your hygiene efforts, and offer advice on how you can improve.
Like tooth decay, gum disease can rob you of your dental health. But it can be stopped—both you and your dentist can keep this infection from ruining your smile.
If you would like more information on preventing and treating gum disease, please contact us or schedule an appointment for a consultation.